BKOM Studios' latest title combines stylish turn-based combat, intricate puzzles, and a grungy narrative set against the backdrop of a dystopian futuristic London.
Monday, 13th June 2022 – Team17 has today announced a partnership with BKOM Studios to publish upcoming dystopian adventure Sunday Gold on PC in 2022. Combining strategic turn-based combat, intricate puzzle solving, and a trio of cunning and cutthroat criminals, Sunday Gold takes place in 2070s London: a bleak and unwelcoming city, rife and riddled with crime, and a corrupt elite who will kill anyone working to uncover their malevolent and illegal secrets.
Sunday Gold mashes classic point and click adventure mechanics with escape-room-style puzzles, as the three protagonists – Frank (The Vengeful Ex-Con), Sally (The Activist), and Gavin (The Disgruntled Ex-Employee) – unearth and decipher clues in order to escape certain death. Switching between control of the three very different characters, players will engage in stylish turn-based combat, and utilise each of the anti-heroes' unique skills and attacks, and an arsenal of weapons and consumables, to take down the bad guys.
Take a butchers at the announcement trailer: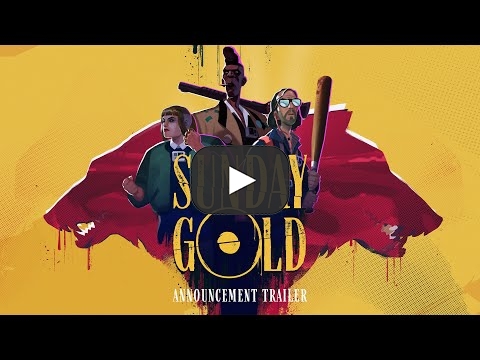 Against the backdrop of a capital dogged by corruption and dystopian activities the trio attempt to extort a pocket-lining payday from Kenny Hogan, the mysterious and monstrous billionaire CEO of Hogan Industries. Infamous for his involvement in brutal cybernetic dog races with his prize pooch, the eponymous Sunday Gold, the three find themselves embroiled in something more sinister than their typical extortion plans, as they try to keep their cool… and fight for their lives.
Sunday Gold Key Features:
Atmospheric action: Immersed in the gritty and unwelcoming world of near-future London, Sunday Gold's story takes players into the seedy underbelly of the corrupt elite, where secrets are hidden behind every locked door
Stylish turn-based combat: Comic book inspired sequences, specific skills, attacks, and talent trees, along with as many stolen items the trio can get their thievin' hands on, makes for a unique turn-based combat experience
Noggin' scratching puzzles: Explore each room and solve a combination of observation, deduction, and inventory puzzles; hunt for clues, hack terminals, and even bust down a door (or two)
Keep your cool: In the face of dead bodies, cybernetic dogs, and psychotic billionaires even the most hardened criminals will start to lose their cool – maintaining the team's composure with consumables and specific abilities will be key to mission success
A trio of trouble: Frank, Sally, and Gavin make for unusual comrades, but without each of their unique abilities to lock pick, hack, and rip things open with their bare hands, the mission is doomed to fail.
Sunday Gold is Currently available to Wishlist on Steam, and you can keep up to date with all the information by liking us on Facebook, following us on Twitter, joining us on Discord, or checking out the Sunday Gold Website.
About BKOM Studios
Founded in 1996, BKOM offers a full range of digital services for state-of-the-art games and interactive experiences for prestigious names in the Games and Entertainment Industry. We also create our own original games and universes, exploring the digital space further and experimenting with cutting-edge technologies. Our headquarters are based in Quebec City but we operate internationally. Our team is made up of more than 120 talented people helping brands develop their presence across multiple platforms including PC /consoles / mobile games, video trailers, social media, marketing campaigns, points of sale, websites, apps, connected toys and AR/VR experiences.
For more information, visit www.bkomstudios.com
About Team17 Digital
Founded in 1990, Team17 Digital is a leading developer, video games label, and creative partner for developers around the world. Part of Team17 Group plc, which floated on AIM in 2018, Team17 Digital has an extensive portfolio comprised of over 120 titles, and fully encapsulates the spirit of independent games. Team17 Digital's portfolio of multi-award-winning and award-nominated in-house brands include Hell Let Loose, Golf With Your Friends, The Escapists, and the iconic Worms franchise, alongside its games label partner titles, including the award-winning games Blasphemous, Greak: Memories of Azur, and Overcooked! franchise. Visit www.team17.com for more information.